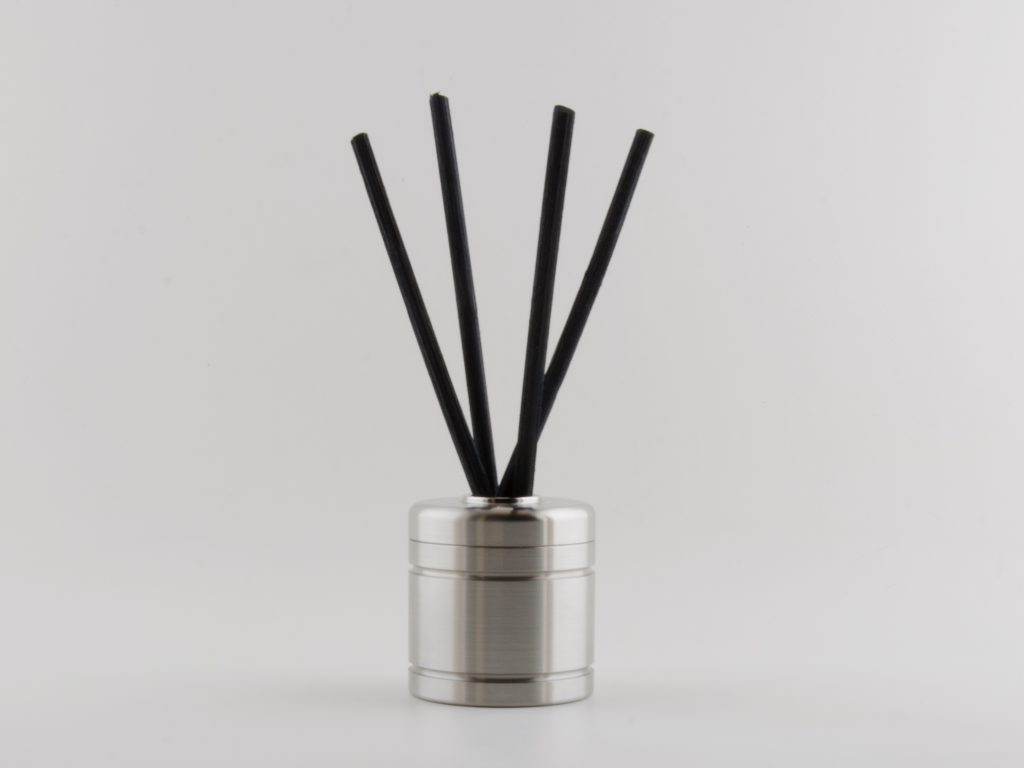 Aromatherapy scents have been around thousands of years and used to alleviate stress and other negative emotions. By harnessing the power of scent, you can gain the ability to create a more relaxing and uplifting environment, be that at home or in the work place.
Our everlasting reed diffusers, often referred to as room diffusers, are created as an alternative to the usual glass designs found on the high street. Manufactured from high quality solid 316 stainless steel. The refillable design allows you to add the oil and reeds of your choice and then replace the perfectly engineered matching lid. The diffusers can be purchased with either the two grooves as standard or the edgy knurled detail.
Each reed diffuser is 57mm in diameter, 68mm tall and holds 50ml of fragrance oil.
£45.00 – Please add £6.00 extra for knurling plus delivery.
Weight: 735g
All products are supplied in a high quality gift box.
We provide 50ml of our natural and essential 'Signature Reed Oil' in an aluminium bottle with screw cap and three of our beautiful 4mm diameter black reeds for £15.00.
Signature Scent – A Calming Influence: A beautiful mix of natural Lavender, Patchouli, Rose Geranium, Ylang Ylang & other calming essential oils.
The base note of Patchouli meets the light and pretty blend of Rose, Lavender and Ylang Ylang to relax and calm.
The mood-enhancing fragrance of Patchouli Essential Oil is found to be grounding and emotionally balancing, allowing the brain and body to relax with the calming of emotions, promoting deeper sleep by reducing anxiety.
Lavender essential oil acts as a natural perfume and a beautiful air freshener that creates a relaxing atmosphere, in any space. Lavender is believed to help balance hormones & reduce feelings of nervous tension.
With its deeply sweet, bright, spicy and stimulating scent, Ylang Ylang Oil is known to soothe feelings of stress, anxiety, sadness, tension, and sleeplessness.
Rose Geranium-This sweet-smelling oil can also uplift your mood, lessen fatigue and promote emotional wellness.
Customer comments:
"This reed diffuser is awesome, thank you." – Dean, Algarve.
"We love our steel reed diffuser with the knurled finish and the signature scent is beautiful, we will be having more of that, thank you." – The Taylor's, Lancashire.
"I love the knurled reed diffuser, thank you." – Alan, Cheshire.
'I want to congratulate the guys from OnTrend Design for their professionalism – from start to finish. A new addition to my tea light holder was the knurled reed diffuser. The diffuser, arrived as expected, in beautiful packaging. Too good as a present just to me! The reed diffuser is a wonderfully turned piece of stainless steel which looks great in my new lounge. The thick reeds are strong and eye catching – and a brilliant way to release the fragrance from their 'Signature Scent' essential oil. I look forward to adding to my collection! Tracy, Ilkley.
To place orders please either email or call with your requirements on the contact details below.
Contact details: M: +44 (0)7887 634990. E: kevin@ontrend-design.com
Twitter: @ontrenddesign – Instagram: ontrenddesigns