Designed and precision engineered in the picturesque Holme Valley, West Yorkshire UK.

By On Trend Design.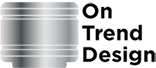 A range of timeless, solid 316 stainless steel candle holders, reed diffusers and light/blind pulls, designed and engineered for discerning clients worldwide. All products should last a lifetime.
Make your house a home or business a statement with warm, welcoming pieces sure to usher you in. Eager to make interiors all the more inviting, On Trend Design crafts a selection of luxury homewares characterised by their simple, eye-catching shape, function and unique use of reliable heavy materials. Enjoy a sense of elegance with each candle holder, reed diffuser, light or blind pull in your environments.
Candle Holders 
Created in three different sizes, this versatile product will make heads turn!
The candle holders are designed to accept both an 18mm deep tea light or a tapered dinner candle.
For maximum impact, place them together in groups, or use the ability to stack them to create a candle stick. If simplicity is your thing they also look stunning on their own.
The small is extremely tactile and without any detail, the medium and large can be ordered either with two beautiful grooves as standard, or the edgy, urban knurled design upon request.
Each candle holder is 57mm in diameter. Small is 30mm tall, medium is 44mm tall and the large is 57mm tall.
Weight: Small 374g – Medium 611g – Large 865g.
Small £25.00 – Medium £30.00 – Tall £35.00 – Please add £6.00 extra for knurling of the medium & tall, plus delivery.
Each candle holder comes complete with a four hour burn, fresh linen scented candle.
 Customer comments:
Hello Kevin Martin. Augustine here from California. I just wanted to let you know that I have received my order yesterday on the 8/20  a few days early. The Candle set and Reed Diffuser looks great. Thanks for your products I'm very impressed. I'll post a pic of my set up in my new place ASAP they're so very cool ..thank you. Augustine, California USA.

"Thank you for the Stainless Steel T Light holder – Beautifully knurled out! Several people have been impressed with my purchase!!" – Muriel, UK.

"Wow! This is serious kit, thank you so much for the stainless steel T light holder set!" – Adelia, Algarve.

"Thank you for my Mum & Dads 25th wedding anniversary present, they love them." Laura, UK.

"We get so many nice comments about our candle holder set." – The Taylor's, Lancashire.

"Hi Kevin – candle holders came today, I'm really chuffed with them thank you." Alan of Cheshire.
All products are supplied in a high quality gift box.
        To place orders please either email or call with your requirements on the contact details below. 
Contact details: M: +44 (0)7887 634990. E: kevin@ontrend-design.com
Twitter: @ontrenddesign – Instagram: ontrenddesigns
Gallery: